Hey Lovelies! I hope you like paper craft or cutting or how you wanna call it. Because today we are making some paper stars in 3d! I love how they turned out, not too complicated but still very pretty. Let's see how to make those!
I hope you are having fun so far making all or some of the crafts for this year's blogmas?! We are at the sixths day, so half way through.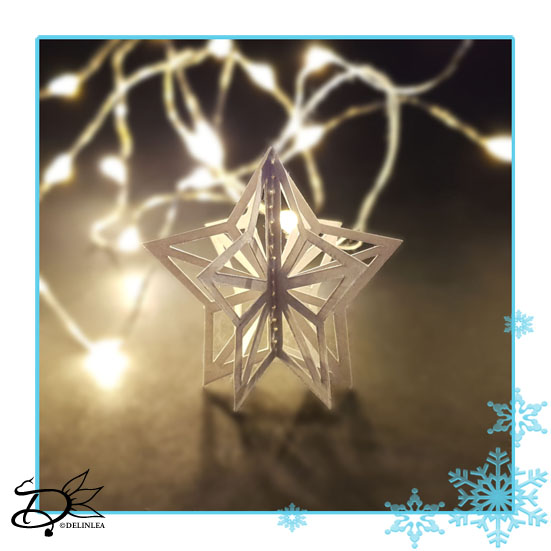 For this DIY you'll need:
♥ This Template. (This download gives you all templates for blogmas 2021)
♥ White Paper, preferably about 200gr/m2.
♥ X-acto Knife.
♥ Cutting Mat.
♥ Ruler.
♥ Needle and Thread.
DIY Paper Stars
First print out this template. This will be enough for 5 stars.
For one complete star, you need to have 3 stars cut out. Cut along all the solid lined using an x-acto knife and a ruler, the dotted line you'll leave alone. Make sure to put a cutting mat underneath your work, so you won't damage your surface.
When you've cut them out, score two of them along the dotted line. Put one in front of the non scored star and one behind it. Now sew along the dotted line using a needle and thread, make holes before you start sewing to make it easier. Make sure to start from the point and leave a long thread before you start. Then sew down and up again using a running stitch. So, both ends of the thread will be at the top and this will make the loop to hang it from.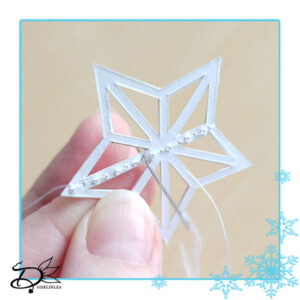 That's all there is to do! Make several stars if you like and hang them underneath the snowball.
If you decided to join this lovely project, or just some parts of it, show me on Twitter or Instagram what you are working on! I'd love to see!
If you like to buy the PDF pattern for this whole project, go to my ko-fi shop. This will have an extra story attached and no ads.
Have a wonderful day!
Love
Danielle
PS. if you love those patterns, maybe you'd like to support me on Ko-Fi?! So I can keep making content like this!
// ©2021 Delinlea / Danielle Kaal // Items made with this pattern/DIY may be sold in a limited number. Credit to 'Delinlea' is appreciated. Not allowed for mass production or commercial purposes. You may not reproduce, translate, share, freely distribute or sell this pattern/DIY as your own in digital or printed from.