Hey Lovelies!
How are you all doing?! This week I decided to challenge myself, crochet something as small as I could go! I always love to make small things. In school I always heard that I worked way to small haha, it's just my thing, I guess.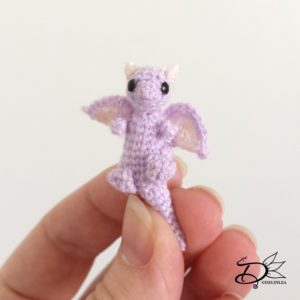 On the internet I often saw people crochet these tiny plushes. Always amazed by them and wondered how that was possible. Never thought of making one myself… until now. I thought why not try it, I can always quit! xD So, I grabbed my embroidery floss (I was cleaning it out anyway), devided it into 3 parts (so 2 threads in a bundle), and just go. I used a 0,9mm hook.
At the beginning I was like.. HOW do you do this >_< annoyed a bit, but I kept trying. I just don't give up easily! And after a while of trying and doing my best to make it look like crochet xD, it actually started to get like normal crochet.. only small! It wasn't so hard at all, easier as I could ever imagine! In the end I enjoyed crocheting so tiny. Can you imagine that?! haha.
I made a dragon from my own pattern (Which I will not share, I'm sorry!) And it's just 4cm in length! I love it! I made the eyes from a bit of UV resin and black paint, then glued it on. In case you were wondering! I hope you can see in the pictures how tiny it is!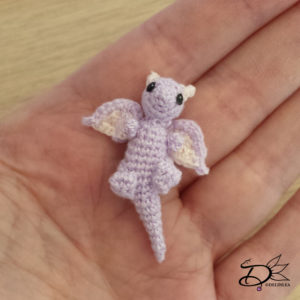 I made 2 other dragons to compare: for the big one I used Royal Acrylic yarn from the Zeeman (100g, 241m), made with a 3,5mm hook, it's about 12cm in length. For the middle one I used Supersoft Acrylic yarn also from the zeeman (50gr, 199m), with a 2mm hook, it's about 8cm in length.
I think, I'm addicted to crocheting small now… xD I wanna make so many more! I might try to go a bit smaller and use sewing thread with a 0,75mm hook. Let's start another Ufufy! haha. I will keep you updated on my instagram and probably make a blog post about it, when I made plenty.
NOW I challenge you as well! How small can you go?! Tag me on instagram/twitter/vero if you tried! love to see if you could do it too!
Have a wonderful day everyone!
Love
Daniëlle