Hey Lovelies! A Winter Wonderland without snowman, is that even possible?! I just had to make one, and I could have done that in so many ways, like clay, amigurumi, plushy, etc. Way too many options. And then I thought of making them from those small pompom's you can buy at the story, easy and quick to make, since Christmas is getting close now, we might not have that much time on our hands anymore. So let's just go to this craft en check this one off.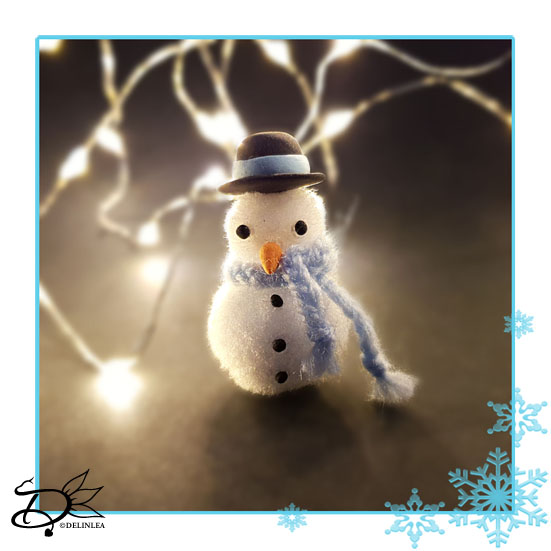 For this DIY you'll need:
♥ 2 pompom's, 1,5cm & 2,5cm.
♥ Bit of Clay in Orange, Light Blue and Black.
♥ (Hot) Glue.
♥ Light Blue Yarn. (Optional)
DIY Snowman
Glue the two pompom's together. I like to use hot glue here, that makes life easier, it can be a struggle to glue pompom's together.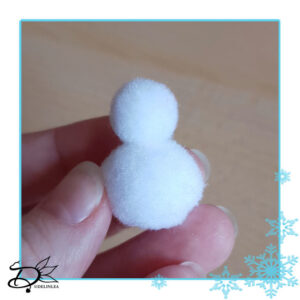 Clay
From clay, make a Carrot for its nose, a few small "rocks" of black clay for the eyes and buttons. I also decided I wanted to give him a hat, make this one as well. Just make a flat circle and a small cylinder out of black clay, put a "ribbon" around in a color you like.
Now glue all the clay parts in the right places!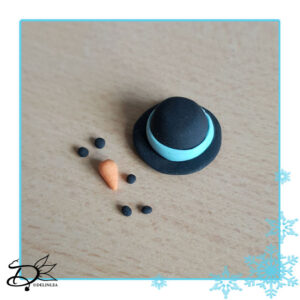 Scarf
This is totally optional, but I went ahead and make a braid of some Light blue yarn. And tied this around the neck of the snowman.
That's all for this craft. Now go ahead and glue the snowman on top of the snowball.
If you decided to join this lovely project, or just some parts of it, show me on Twitter or Instagram what you are working on! I'd love to see!
If you like to buy the PDF pattern for this whole project, go to my ko-fi shop. This will have an extra story attached and no ads.
Have a wonderful day!
Love
Danielle
PS. if you love those patterns, maybe you'd like to support me on Ko-Fi?! So I can keep making content like this!
// ©2021 Delinlea / Danielle Kaal // Items made with this pattern/DIY may be sold in a limited number. Credit to 'Delinlea' is appreciated. Not allowed for mass production or commercial purposes. You may not reproduce, translate, share, freely distribute or sell this pattern/DIY as your own in digital or printed from.