Hey Lovelies! It's Day 15 of Blogmas, and on this very moment, when this blog get released, I will know who won the 'HaakSTER' Competition! I am so nervous! Oh gosh, I have no clue what's going to happen, I will keep you updated! Anyway, for today I planned another felt ornament! It's popplio's turn! He got his cute antlers out!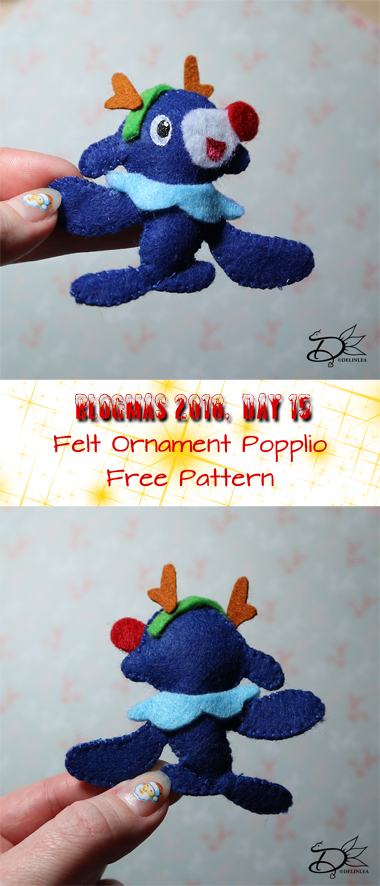 For this DIY you'll need:
♥  Felt in the colors Dark Blue, Blue, White,Red, Green and Brown
♥  Sewing thread in matching colors to the felt.
♥  Sewing Needle.
♥  Trick Marker or anything else where you can copy the pattern with onto your felt.
♥  Pattern.
♥  Scissors.
♥  Stuffing.
♥  Fabric Glue. (optional)
♥  Acryllic Paint in white, black and Red(optional)
DIY
First off all, download the pattern HERE! And print it out (or draw it from your screen). The good thing is, you can make it as big as you want! Then cut out all the pieces. On every piece is stated how many times you need to cut it out of felt.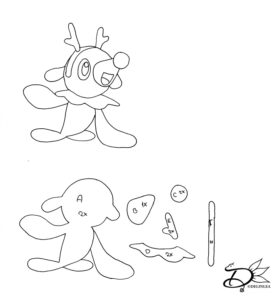 Copy all part to the felt with a trick marker. Cut part A out of Dark Blue felt, Part B out of White, Part C out of Red, Part D out of Blue felt, Part E out of Brown felt and Part F out of Green felt.
Now sew parts A together with a Blanket stitch. I started by the head, when I finished that part I stuffed it. Continued the body  and legs. The flippers you don't have to stuff, just the body itself.
For 2 parts a line is drawn through by the body, this you will stitch with arunning stitch, just to give Popplio a little bit more dimension.
The rest of the parts I glued on. I went for the easy way cause I was in a rush. But you can also choose to sew them on.
For the eyes and mouth, I painted them on, but you can choose to make them out of felt as well. Do what suits best for you!
And that was it! Quick but cute! I hope you like it anyway, and give him some love by making him as well, share it with #DelinleaBlogmas2018DIY or #DelinleaDIY
Have a lovely day!
Love
Danielle