Hey Lovelies! Spring is on its way!! Although the weather is more acting like it's Fall xD. We'll just have to deal with it. But we can make our own little Spring world, to give us those Spring vibes. That's why I made this adorable pattern of a Sakura flower! Don't you wanna make a whole bunch and decorate everything with it, so we can make up for the bad weather?! Well, I think, I will xD. Let's get quickly into this pattern.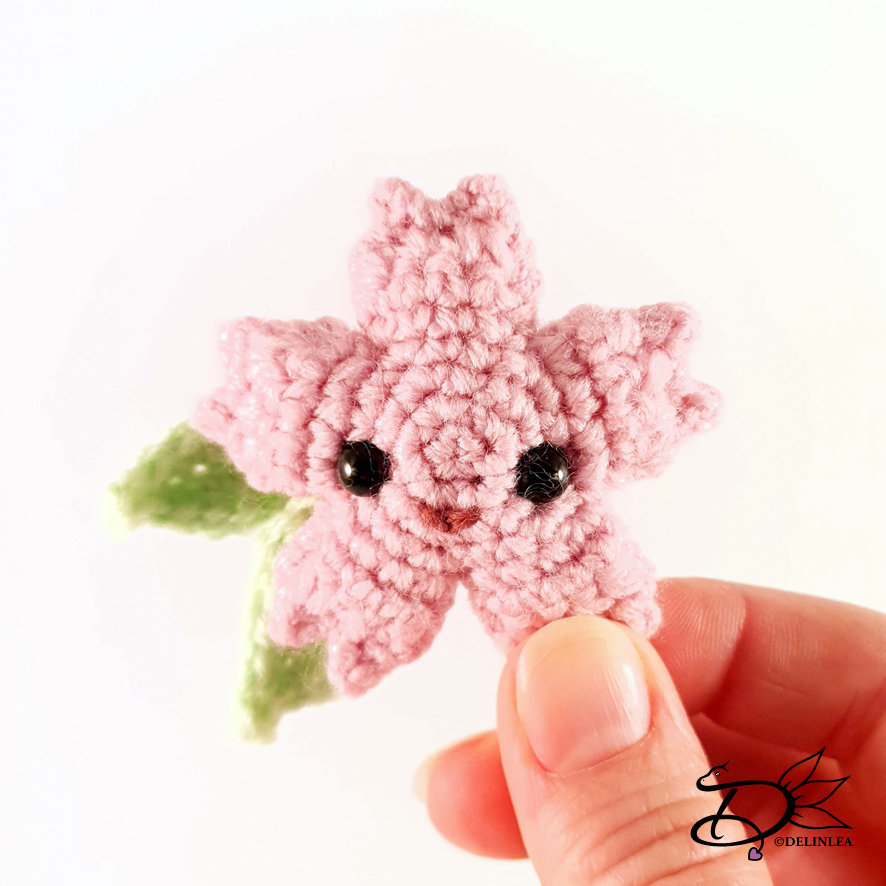 For this Pattern you'll need:
♥ Yarn in the colors;  Pink and Green. (I used Zeeman Supersoft)
♥ Crochet Hook (I used a 2mm hook).
♥ Safety Eyes, 5mm.
♥ Stuffing.
♥ Scissors.
♥ Sewing Pins.
♥ Yarn Needle.
♥ Piece of dark colored yarn for the mouth.
Stitches used (US Terms):
Magic Ring.
CH = Chain.
SLST = Slip Stitch.
SC = Single Crochet.
HDC = Half Double Crochet.
DC = Double Crochet.
Picot = Ch3 and SlSt into the first Ch again.
ST = Stitch.
Inc = Increase.
Dec = Decrease.
(…) = Repeat the space in brackets the given number of times.
[…] = Total number of stitches.
Pattern Sakura Flower
Sakura Flower (Make 2)
Use the color Pink.
1: 5SC in Magic Ring, SlSt in the first st. [5]
2: Ch1, 2SC in each st around, SlSt in the first st. [10]
3: Ch1, (1SC, inc) 6 times, SlSt in the first st. [15]
4: Ch1, (2SC, inc) 6 times. [20]
From here you will work the patals, repeat row 5-7, 5 times.
5: Ch1, 3SC, inc, turn. [5]
6: 5SC, turn. [5]
7: Dec, Picot, 1SC, Picot, dec. [5]
Fasten off and weave in tail.
Leaves (Make 2)
Use the color Green.
Ch8, insert in 2nd ch from hook, 1SC, 1HDC, 2DC in the next st, 2HDC, 1SC, 1SC + Picot + 1SC in the next st, continue to work along the other side of the chain, 1SC, 2HDC, 2DC in the next st, 1HDC, 1SC, SlSt.
Fasten off and leave a long tail for sewing.
Assembling
Whenever I make Amigurumi's, I like to use sewing pins first to add all parts together. This way I can easily move them around until I am happy with how it looks.
On one of the 'Sakura Flower' add the eyes and the mouth, I put the eyes between row 3 and 4. Next sew both sides of the flower together.
Add the leaves however you like and sew those on as well.
And your Sakura Flower is already done! Easy right? And so cute, are you gonna make some? I hope you will, and show me on social media if you do!
Have a wonderful day~
Love
Danielle