First of all, I was scared this challenge would come. I never made a triangular shawl before. Well ones before, from a pattern. But that took me ages to make! And we had just 3 weeks for this one. HOW?! I really needed to come up with an idea!
Allereerst was ik zo bang dat deze opdracht zou komen! Ik had nog nooit een omslagdoek zelf bedacht. Wel 1 keer een van een patroon gemaakt, en daar hield het op. Het heeft me heel lang gekost om die af te maken en nu hebben we maar 3 weken. HOE DAN?! Ik moest echt snel met een idee komen!
I saw mosaic crochet before, and I love those patterns they made with it. But how do you do that?! I never done it before, but it looked okay to try. Also what colors do I want. I wanna make something that I would wear, so the colors need to be close to me. Then I remembered a blanket that used turquoise and some brown, sandy tones. I knew I wanted to go for those colors. I could choose for stylcraft yarns again, but I did that for several challenges already and really wanted to try something else. A lot of yarns I could pick from where with wool, and I am not a person that likes wool… So I went for Yarn & Colors Super Charming. Such pretty yarn, a bit like Scheepjes Stonewashed only thicker.
Ik heb wel vaker mosiac haken gezien, en ik vindt het zo mooi wat ze daar mee maken. Maar hoe doe je dat?! Ik heb dat zelf nog nooit gedaan, maar het zag wel makkelijk om te proberen. En ook kleuren, wat wil ik?! Ik wou wel iets maken wat ik zelf ook zou willen dragen, dus dan hoef ik niet met fel roze aan te komen. Toen herinnerde ik me een deken in turqiouse en zand kleurtjes. En toen wist ik dat dat het ging worden! Ik kon weer kiezen voor Stylecraft garen, maar dat heb ik al voor meerdere opdrachten gebruikt, dus wou ik nu voor wat anders gaan. Veel garens waar we uit mochten kiezen waren met wol, en daar hou ik zelf niet zo van. Dus ben ik uiteindelijk gegaan voor Yarn & Colors Super Charming, heel mooi garen! Een beetjes zoals Scheepjes Stonewashed.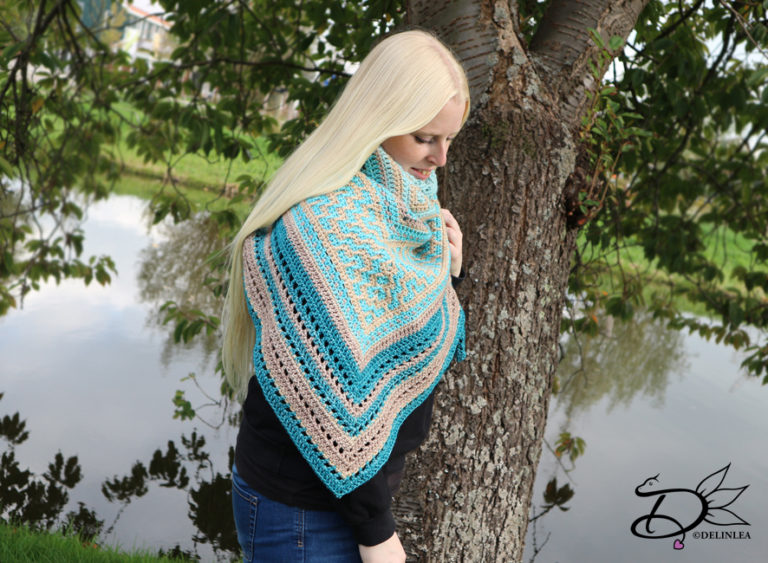 With starting the triangular shawl, it went kinda smoothly, it was getting a nice triangle, nothing really bothered me. And then there was the Mosiac part xD Gah! I thought I can do this in one go xD NOT. At first I had chosen a pattern that was impossible with this technic, so I had to go for something else. That went well, the first part was finally done.
Aan het begin van mijn omslagdoek ging het vrij makkelijk, de driehoek werd mooi, niks aan de hand. Tot het mosaic gedeelte xD ha! Ik dacht dat doe ik even, NIET. Eerst had ik een patroon gekozen die onmogelijk was met deze techniek, dus moest ik iets anders kiezen/ontwerpen. Gelukkig gind dat wel goed, en het eerste mosaic stuk was klaar.
I also noticed my yarn went pretty quick, so I had to make those hole thingies to make sure I would end up with the right size. the second mosaic part didn't went well either. Wrong choise of pattern again, teehee, so had to undo a pretty big part and start over again.
Ik merkte ook dat mijn garen vrij snel ging, dus moest ik wel gaatjes maken in mijn patroon, iets wat ik eerst niet echt wou. Maar ik moest eindigen met het juiste formaat, dus ja, moest wel. Het tweede mosaic stuk ging weer niet goed, verkeerde keus van patroon, alweer, teehee. Dus moest ik een flink stuk uithalen en overnieuw beginnen.
When I finally finished I was so happy with it, only it got a bit round at the top part, instead of straight. So I had to block it.. something I never had done before, and is was so big (185 by 135cm), how a where am I gonna do that?! The solution was in a youtube video, simply cardboard, now fancy stuff needed. And that went well, it only took ages to dry xD. Oh well. I'm happy with how it looks, it's so warm, perfect for the winter times.
Toen ik eindelijk klaar was, was ik zo blij met het resultaat. Alleen had het iets van een bolling aan de bovenkant. Dus moest ik het blokken, iets wat ik nog nooit gedaan had, en hij is nogal groot (185 bij 135cm). Hoe en waar ga ik dat in vredesnaam doen?! Het antwoord lag in een youtube video, gewoon karton, geen fancy spullen nodig. En dat ging goed, het duurde alleen heel lang voor het droog was xD Ach ja, Ik ben blij met hoe het er nu uit ziet, het is lekker warm, perfect voor de winter.

This is what I made:
Hier is wat ik gemaakt heb: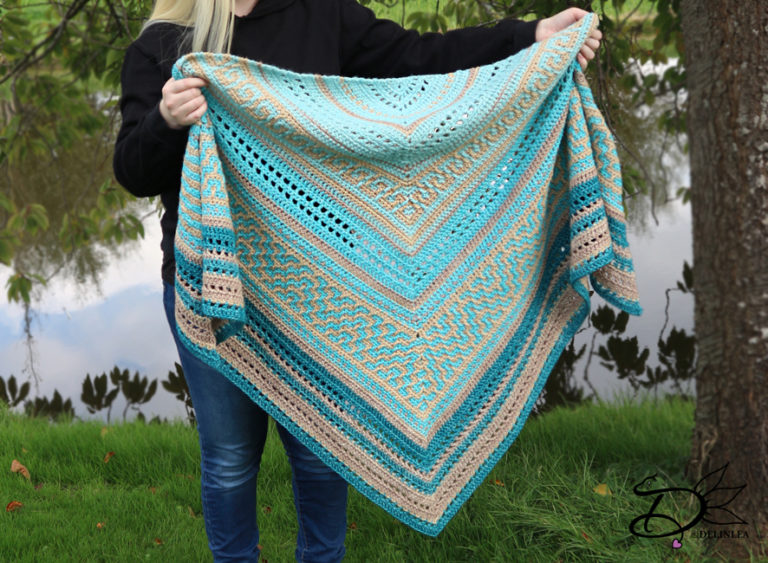 What do you think of my design?! Something you will make?
Wat vindt je van mijn ontwerp?! Iets wat jij wilt maken?
Love
Danielle
PS. My cat really loves it too~~