Hey Lovelies! Day 8 already of Blogmas 2021! Well it's actually day 15, but yeah my days are a little bit different haha. I hope I'm not confusing you too much. Today we will make another snowflake to go on the snowball! Just making it a bit more pretty. This small snowflake is not too complicated to make, but read well. I hope you like it!
Of this small Snowflake you will make 2. These will come right beside the big Snowflake you made earlier.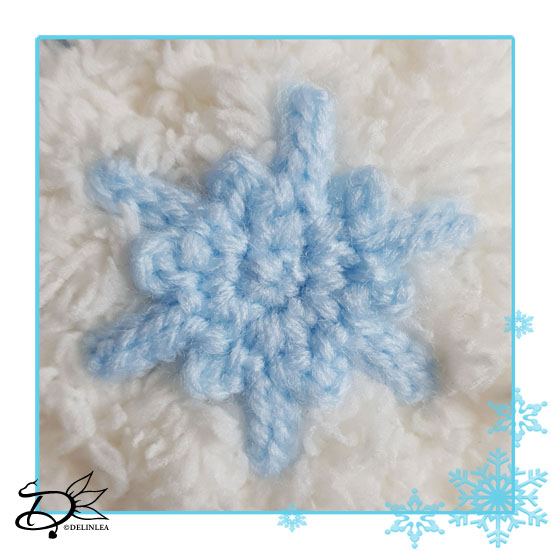 For this Pattern you'll need:
♥ Thin Yarn in the color Light Blue.
♥ Crochet Hook, 2MM*.
♥ Scissors.
♥ Stitch Markers. (Optional)
♥ Yarn Needle.
*Check your yarn that you wanna use, to which hook size you need. For those Crochet Snowflakes it isn't necessary to use the exact same yarn, they will only turn out bigger or smaller.
Stitches used (US Terms):
Magic Ring.
CH = Chain.
SlSt = Slip Stitch.
SC = Single Crochet.
ST = Stitch.
Inc = Increase.
(…) = Repeat the space in brackets the given number of times.
[…] = Total number of stitches.
Pattern Small Snowflake
1: 6SC in a Magic Ring, SLSt in the first st. This will be the base. [6]
2: Ch1, (1SC in base + Ch5, insert in second ch from hook, 4SlSt* + 1SC in same st as last SC in base, Ch4) 6 times, SlSt in the first st. [6 Crystals]
Fasten off and weave in tail.
* When you made a chain, you'll use SlSt to go back to your base. You'll see 2 loops on the 'right' side of your chain, if you turn it around you'll see 1 loop, these are the ones I used to make my Slip Stitches in.
All you have to do now is to sew them on the snowball, just how you like.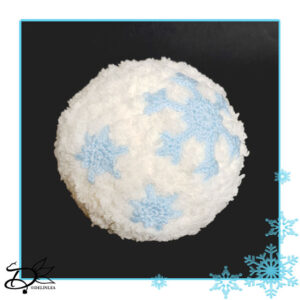 If you decided to join this lovely project, or just some parts of it, show me on Twitter or Instagram what you are working on! I'd love to see!
If you like to buy the PDF pattern for this whole project, go to my ko-fi shop. This will have an extra story attached and no ads.
Have a wonderful day!
Love
Danielle
PS. if you love those patterns, maybe you'd like to support me on Ko-Fi?! So I can keep making content like this!
// ©2021 Delinlea / Danielle Kaal // Items made with this pattern/DIY may be sold in a limited number. Credit to 'Delinlea' is appreciated. Not allowed for mass production or commercial purposes. You may not reproduce, translate, share, freely distribute or sell this pattern/DIY as your own in digital or printed from.