Hey Lovelies! Spring has arrived, but the weather here acts like it is Winter. We sorta had a white Easter instead of a white Christmas haha. Is the weather acting weird, where you live, as well? Let's try to make this blog a bit more Spring like so we can enjoy it at least inside. With this adorable Sakura Mochi Winnie the Pooh Tsum Tsum. I chose to make this version with my Winnie the Pooh Tsum Tsum pattern that you can find here. The pattern for the leaf will be in this blog.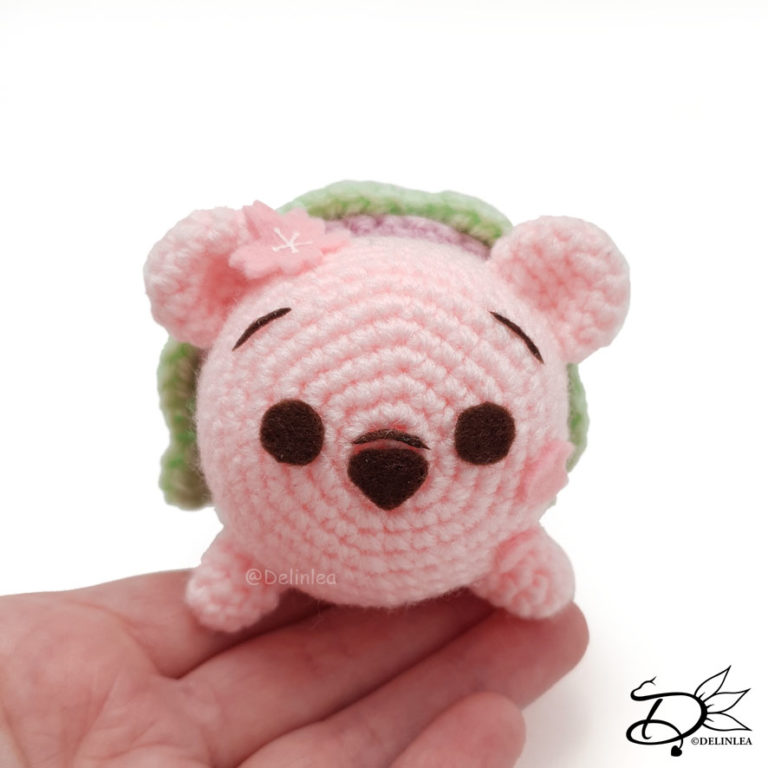 For this Pattern you'll need:
♥ This Winnie the Pooh Tsum Pattern.
♥ Yarn in the color Light Pink, a Darker Pink and a Light Green. (I used Zeeman Supersoft)
♥ Crochet Hook (I used a 2mm hook).
♥ Stitch Marker
♥ Stuffing.
♥ Scissors.
♥ Sewing Pins.
♥ Yarn Needle.
♥ Brown & Pink Felt for the facial details/Sakura.
♥ (Fabric) Glue.
♥ Piece of Elastics. (Optional)
Stitches used (US Terms):
Magic Ring.
CH = Chain.
SLST = Slip Stitch.
SC = Single Crochet.
HDC = Half Double Crochet.
DC = Double Crochet.
Picot = Picot of 3SlSt.
ST = Stitch.
Inc = Increase.
Dec = Decrease.
(…) = Repeat the space in brackets the given number of times.
[…] = Total number of stitches.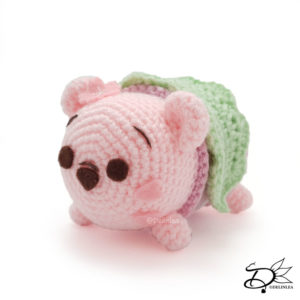 Pattern Winnie the Pooh Sakura Mochi Tsum Tsum.
This pattern is made using continues rounds, use a stitch marker to mark the first st of each row. If worked differently, it's stated with that part.
Use this pattern to make Winnie the Pooh. For the Yellow parts you use Light Pink and for the Red part you'll use Darker Pink. The shawl that's in the pattern, you'll leave out. Assemble Pooh as written in that blog.
Next let's make the leaf.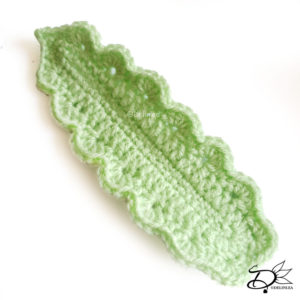 Leaf
Use the color Light Green.
1: Ch26, insert in second ch from hook, 24SC, 3SC in the next st, continue along the other side of the chain, 23SC, inc. [52]
2:5SC,2HDC, 17DC, 2DC in the next st, 3DC in the next st, 2DC in the next st, 17DC, 2HDC, 5SC, inc. [57]
3: (1SC, skip 1 st, 5HDC in the next st, skip 1 st) 14 times, 2SC, picot. [87]
Fasten off and leave a long tail.
Assembling
Of course you don't have to assemble much now, since you already assembled Winnie the Pooh. All you have to do, is to add the leaf around his body. You can sew this on to Winnie the Pooh. Or, if you wanna be able to remove the leaf, use a bit of elastics in between the tip and the end of the leave and sew this on.
Don't forget to cut some sakura blossom/petals out of felt and glue those on your Tsum. To really give those spring vibes.
Your Sakura Mochi tsum is done! Ofcourse you can do the same with other Tsum patterns, just switch out all the color to different shades of pink. It would look really fun to have multiple together. If you made some yourself as well, make sure to show me on Twitter or Instagram with #DelinleaDIY, I'd love to see what you made with my pattern!
I hope you had fun and I wish you a wonderful day!
Love
Danielle
PS. if you love those Tsum Tsum patterns, maybe you'd like to support me on Ko-Fi?! So I can keep making content like this!
// ©2021 Delinlea / Danielle Kaal // Items made with this pattern may be sold in a limited number. Credit to 'Delinlea' is appreciated. Not allowed for mass production or commercial purposes. You may not reproduce, translate, share, freely distribute or sell this pattern as your own in digital or printed from.