Hey Lovelies! I wasn't sure if there would be a blog today. I had severe back pain to the point that I couldn't do anything, just sitting/laying was already a challenge. But I felt something popping in my back earlier this week and that seems to have helped, the pain is not gone yet, but improved a lot. Anyway, enough about me, back to the blog! I kinda kept is simple today since I was running out of time. I made a Scrump ufufy pattern for you. I hope you will this one, despite it is an easy one. Enjoy it!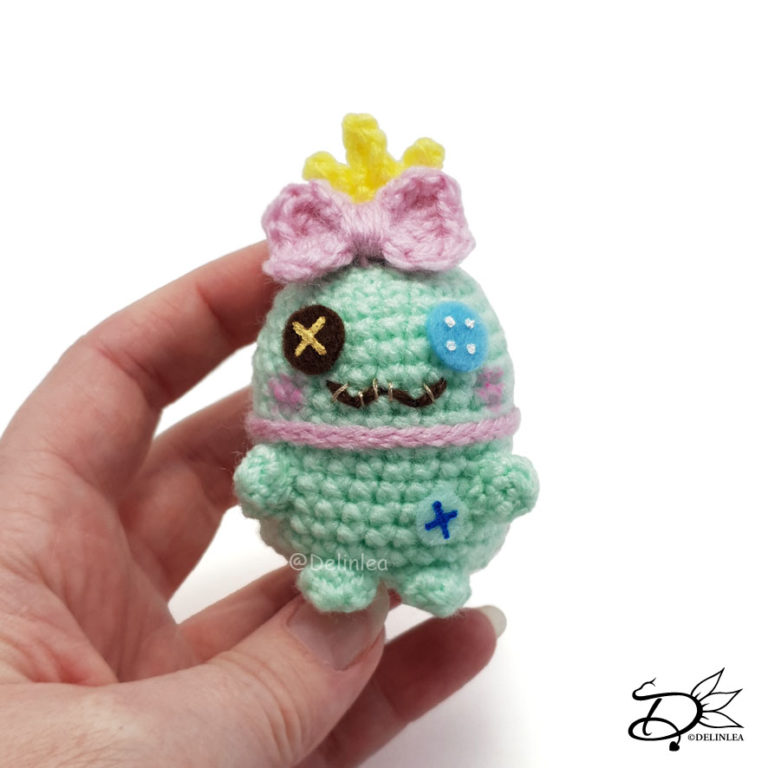 For this Pattern you'll need:
♥ Yarn in the colors Light Green, Pink and Yellow. (I used Zeeman Supersoft)
♥ Crochet Hook (I used a 2mm hook).
♥ Stitch Markers.
♥ Stuffing.
♥ Scissors.
♥ Sewing Pins.
♥ Yarn Needle.
♥ Felt/Yarn for the facial details.
♥ (Fabric) Glue.
Stitches used (US Terms):
Magic Ring.
CH = Chain.
SLST = Slip Stitch.
SC = Single Crochet.
HDC = Half Double Crochet.
DC = Double Crochet.
TR = Treble Crochet.
ST = Stitch.
Inc = Increase.
Dec = Decrease.
(…) = Repeat the space in brackets the given number of times.
[…] = Total number of stitches.
Pattern Scrump
This pattern is made using continues rounds, unless stated otherwise. Use a stitch marker to mark the first stitch.
Body
Use the color Light Green
1: 6SC in a Magic Ring. [6]
2: 2SC in each st around. [12]
3: (1SC, inc) 6 times. [18]
4: (2SC, inc) 6 times. [24]
5-6: 24SC. [24]
7: (3SC, inc) 6 times. [30]
8-17: 30SC. [30]
18: (3SC, dec) 6 times. [24]
19: (2SC. dec) 6 times. [18]
Stuff the body.
20: (1SC, dec) 6 times. [12]
21: dec around. [6]
Fasten off and weave in tail.
Legs (Make 4)
Use the color Light Green.
1: 6SC in a Magic Ring. [6]
2: 6SC. [6]
Fasten off and leave a long tail for sewing.
Collar
Use the color Pink.
Make a chain of 30ch, make sure it's long enough to go around the body, you might wanna add a few more ch.
Fasten off and leave a long tail for sewing.
Bow
Use the color Pink.
In a Magic Ring, crochet: (1SC, 1HDC, 1DC, 2TR, 2DC, 2TR, 1DC, 1HDC, 1SC) 2 times.
Fasten off and leave a long tail for sewing.
Wrap a part of the tail around the middle of the bow part, where the SC's are. So you will get a bow like shape. Secure this part.
Hair
Use the color Yellow.
This part is not made with continues rounds.
1: Ch5, insert in second ch from hook, 4SC, turn. [4]
2: 3SC, Ch3, insert in second ch from hook, 2SC, 3SlSt, turn. [5]
3: 3SC, Ch2, insert in second ch from hook, 1SC, 3SlSt. [4]
Fasten off and leave a long tail for sewing.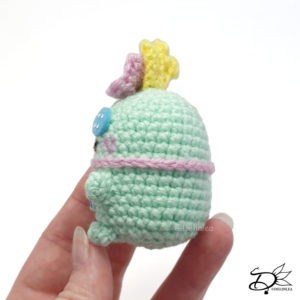 Assembling
Whenever I start assembling an Amigurumi I will use sewing pins first to put it together. This way I can move parts around until I am happy with how it looks. The you can sew it on, I recommend you do so as well.
First put the collar around row 11, and sew it on. Next attach Scrump his legs to the body. After that's on, you will sew on the hair and bow on top of its head.
Last you will make facial detail and the button on his belly from felt and/or yarn. You can do this in several ways, either flue those on or stitch it on. With a bit of pink soft pastel/make-up you can make it's cheeks pink.
And that was it for todays blog! Scrump is done, did you have fun?! I hope you did, and if you made it, make sure to tag me on Twitter or Instagram with #DelinleaDIY. I'd love to see your creations!
Have a wonderful day! And I'll see you next week.
Love
Danielle
PS. if you love those Ufufy patterns, maybe you'd like to support me on Ko-Fi?! So I can keep making content like this!
// ©2021 Delinlea / Danielle Kaal // Items made with this pattern may be sold in a limited number. Credit to 'Delinlea' is appreciated. Not allowed for mass production or commercial purposes. You may not reproduce, translate, share, freely distribute or sell this pattern as your own in digital or printed from.