Hey Lovelies! Today, I wanted to share a quick recipe, because who doesn't love snacking while crafting?! Better do it healthy~, right?! Some time ago I bought a bar simelar to those bites, and it was pretty expensive. I loved it too much, but buying it again, wasn't too fond of that. So I tried to make my own, and that worked! These are so easy to make and taste so good! I have no chocolate cravings at all when I have those around. I hope you will enjoy those Brownie Cashew Bites as well.
Recipe
Ingrediënts:
♥ 75 Gr                Rainsins.
♥ 90 Gr                 Dates.
♥ 50 Gr                Cashew nuts. (I used roasted)
♥ 1/2                     Lemon (use the zest as well as the juice).
♥ 1 Tbsp              Cacao powder.
♥ 1Tsp                 Vanille/Mint/Orange extract. (optional)
♥ 2 Tbsp              Dried Coconut, grated. (Optional)
What you need as well:
♥ Blender.
♥ Teaspoon.
♥ Container to store it in.
Put all ingrediënts, except the coconut, in a blender and mix until it becomes a paste. Sometimes it stays a bit dry, try to add a tiny bit of water.
Using the teaspoon to scoop out bite size portions. Using your hands to roll it into balls. Drop the balls in the dried coconut and cover them completely. I did use coconut because it is so sticky, but you can totally skip this if you don't like the taste.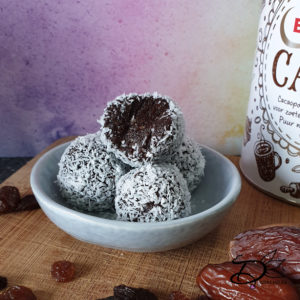 Best way to store it, is in the fridge. It will stay good for quit some time. But I wonder how long it will stay stored. I can't get my hands of it! xD
I hope you will like those bites as much as I do! Enjoy!
Love
Danielle