Hey Lovelies! The last challenge was 4 weeks, and we had to make something for HomeDeco! A pretty wide challenge you would think. But when you know what you are allowed to use, and what not, there is not much left anymore. Because we were only allowed to order Yarn.. was that also the only thing you were alowed to use. So, no stuffing, no glass, no stools, no lampshades etc. So all the fun things were not allowed, Great! I even asked if it really wasn't allowed.. *sigh. Oh well, we should do it with what we have right?!
De laatste opdracht was 4 weken, en we mochten iets maken wat te maken had met HomeDeco! Een vrij ruime opdracht zou je denken. Maar als je bedacht wat we mochten gebruiken, en wat niet, bleef er niet zo heel veel meer over. Omdat we alleen garen mochten bestellen.. was dat ook het enige wat we mochten gebruiken. Dus, geen vulling, geen glas, geen krukjes, geen lampenkappen, enz. Dus alle leuke dingen waren niet toegestaan, great! Ik heb het nog nagevraagd of het echt niet mocht… *zucht. Ach ja, we moeten het doen met wat we hebben.
Because one of my ideas was to make a set of plants, but there you need stuffing for.. so, bye idea. I also thought about a carpet, but I know, I would not use that because of my cat. So, I ended up making a huge Blanket. I thought that was a good idea… but…
1 van mijn ideeën was om een planten set te maken, maar daar heb je vulling voor nodig, dus, doei idee. Ik had ook nog gedacht aan een vloerkleed, maar ik weet, dat ik die zelf nooit zou gebruiken vanwege mijn kat. Dus heb ik uiteidelijk gekozen om een mega woondeken te maken. Ik dacht dat dat een goed idee was… maar..
The first 2 weeks, I only designed 2 large squares. More.. I couldn't do. I was done, no energy left at all and my body hurted so much. I was about to give up on this contest several times. What you don't really see in the episodes is that this contest has really tight deadlines, where we have to come up with a plan, order yarn, make the item, block it if needed, write the pattern and make all the pictures. It is too much if you still have a life besides it. I felt often like I had no time to breath, and in my head it was often 'No rest for the wicked'.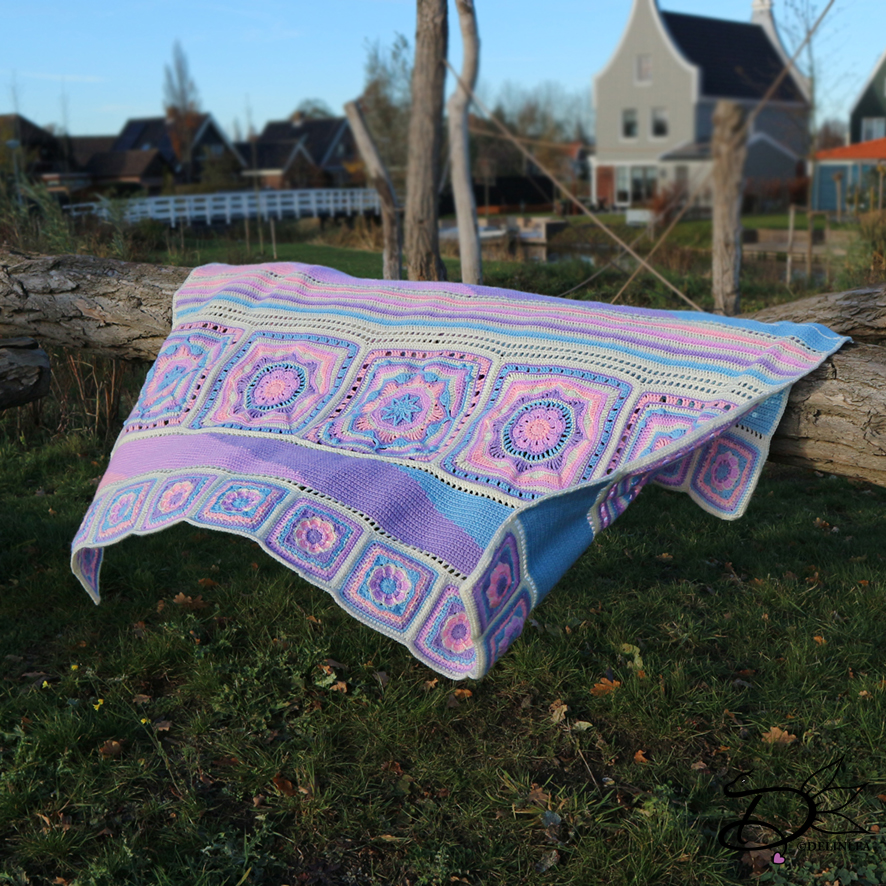 De eerste 2 weken, heb ik alleen 2 grote vierkanten ontworpen. Meer.. kon ik niet doen. Ik was op, geen energie meer en mijn lichaam deed overal pijn. Wat je niet echt ziet in de afleveringen is dat deze wedstrijd hele strakke deadlines heeft. In die tijd moet je een plan bedenken,garen bestellen, alles maken, blokken als nodig, patroon schrijven en de fotografie. Het is teveel als je daarnaar nog een normaal leven hebt. Ik had heel vaak het gevoel dat ik niet eens tijd had om te ademen. Er ging ook heel vaak door m'n hoofd, 'No rest for the wicked'.
Anyway, My idea for the blanket was inspired by the theme Love Yourself, by BTS, A Korean pop group. It's so important to love yourself, but there's create such a 'perfect image' you need to have. That, when you are different, have an illeness or what so ever, we usually hide it. How can we love ourself then?! We need to be able to be ourself, Love Ourself, and it's a must people get aware of that!
Anyway, mijn idee voor de woondeken was geïnspireerd op het thema Love Yourself bij BTS, een Koreaanse Pop Groep. Het is zo belangrijk om jezelf lief te hebben, maar er is zo'n perfect plaatje gecreëerd in de hedendaagse cultuur, dat, als je anders bent, ziek bent of iets anders, we het meestal verstoppen, hoe kun je dan jezelf lief hebben?! We moeten onszelf kunnen zijn, onszelf lief kunnen hebben, het is zo belangrijk dat mensen hier bewust van worden!
I love the colors I used, I was about to use white white, but I am glad I didn't. This way, the look of it, it's warmer, with the use of cream. It would be colors I would pick myself, but BTS also used it. So perfect match!
I love de kleuren die ik heb gebruikt. Ik had bijna wit wit gebruikt, maar ik ben zo blij dat ik dat niet gedaan heb! Met Cream, lijkt de deken warmer te ogen. En de rest van de kleuren zijn kleuren die ik zelf zou kiezen, Maar BTS had deze kleuren ook gebruikt. Dus perfecte match!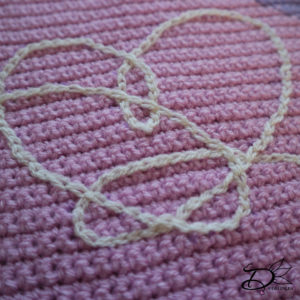 In the end I made my blanket of 180 by 150 cm in about 2weeks. It's ridiculous, and I have no clue how I managed to get that done. But I did, it's a miracle. (If something is in my head, I will make it that way, no matter what) I changed some parts up tho. Like where the hearts are, should have been flowers, and the hearts should be in the other 2 parts. And I also wanted to use BTS logo in there, but that didn't look right, and became stripesxD.
Uiteindelijk heb ik een woondeken van 180 bij 150cm in ongeveer 2 weken gemaakt. Het is te gek voor woorden, en ik heb geen idee hoe ik dat gedaan heb. Maar ik heb het toch echt gedaan, het is een Miracle. (Als ik iets in mijn hoofd heb, krijg je het er niet meer uit, hoe dan ook, zal het gebeuren) Ik heb wel wat aanpassingen moeten maken. Zoals waar de harten nu zijn, daar hadden eigenlijk bloemen gemoeten en de harten in de andere 2 delen. En ik wou eigenlijk ook het logo van BTS er in verwerken, maar dat zag raar, en werden strepen xD.
Anyway I am happy with how it turned out, even though there are some flaws, that if I had more time, I could have done better. But who cares xD only me probably xD.
Ach ja, ik ben blij met hoe het eruit ziet, ook al zitten er wat foutjes in, dat, als ik meer tijd had gehad, beter had kunnen doen. Maar who cares, waarschijnlijk alleen ikzelf xD.
Here's my blanket:
Hier is mijn woondeken: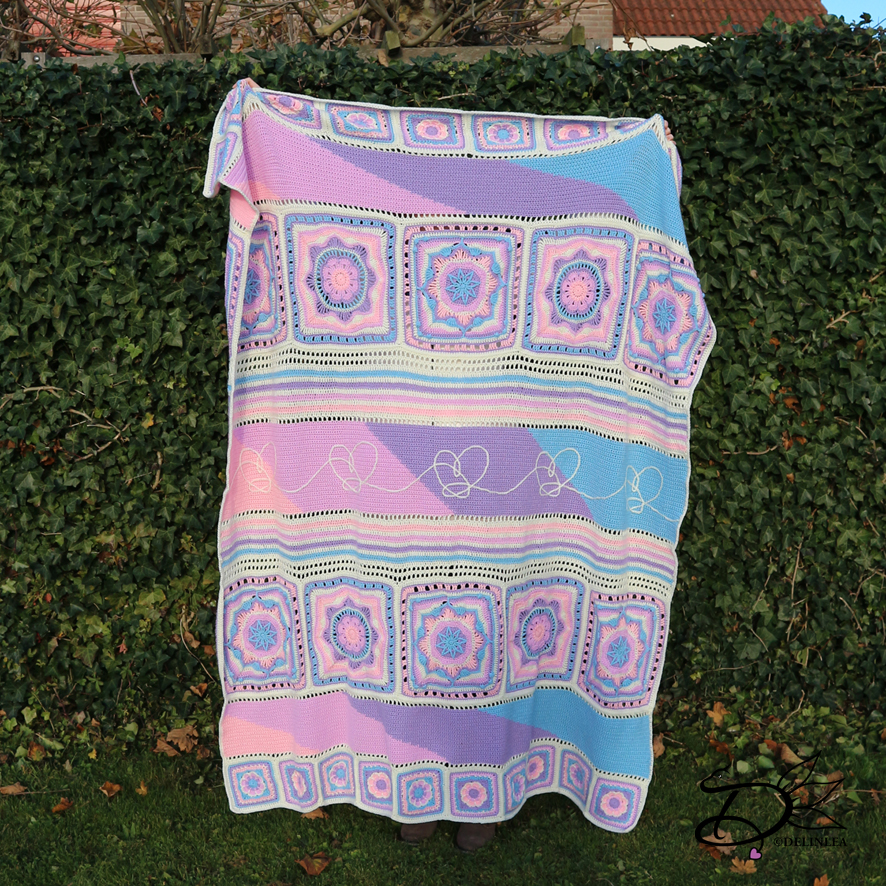 I hope you like what I created, even with knowing the story behind it now! Make this one for yourself, or for someone that deserves the love! Wrap yourself in it, keep yourself warm, that's already a tiny thing you can do, on your way to love yourself.
Ik hoop dat je het mooi vindt wat ik gemaakt heb. Zelfs nu met het verhaal erachter! Maak deze deken voor jezelf of voor iemand waarvan jij vindt dat die wat liefde verdiend! Wikkel jezelf erin, hou jezelf warm. Dat is al een klein iets wat je kunt doen, op jou weg om van jezelf te houden.
I love you all! No matter how you look, what your gender is, how you indentify or not, have an illness and all the others things I forgot to write down. YOU ARE GOOD THE WAY YOU ARE, FEEL LOVED!!
Ik hou van jullie allemaal! Het maakt niet uit hoe je er uit ziet, wat je geslacht is, hoe je je indentificeer, ziek bent en alle andere dingen die ik heb vergeten op te schrijven. JE BENT GOED ZOALS JE BENT, VOEL JE GELIEFD!!
Love
Danielle