Wishing you all an awesome new year, let's hope amazing things will happen!!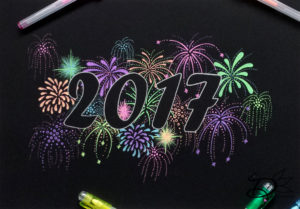 2016 has been a though year for me, I struggled a lot and found out that I had a burn-out. I start to feel better  finally, so I really hope 2017 is going to get good for me. I have a lot of plans~
This was also the main reason I didn't update my site. Hopefully I can catch up soon, and get it up-to-date! Cause even I haven't made a lot of stuff this past year, I still made things. I just can't sit still, MUST do something. No matter how hard it is XD.
Here are some of my favorite things I made this past year.
My plans for 2017 are probably a bit much, but I will try to make them real. Here are some:
♥ Start making art-dolls and sell them.
♥ Trying to involve my crafts in my drawings or the other way around.
♥ More fantasy related art overall xD.
♥ Figure out how to use Gold Leaf
Have a good year everyone!
With Love,
Danielle