Hey Lovelies! I am so sorry that I am late with uploading, but stuff with my cat came up and then I couldn't access my website, great. But as you can see I can access my website again and upload stuff! Today I wanted to show you how you can make those cute jute gift bags! Or use them as docoration. It's fun and easy to make, so I hope you will like them as well.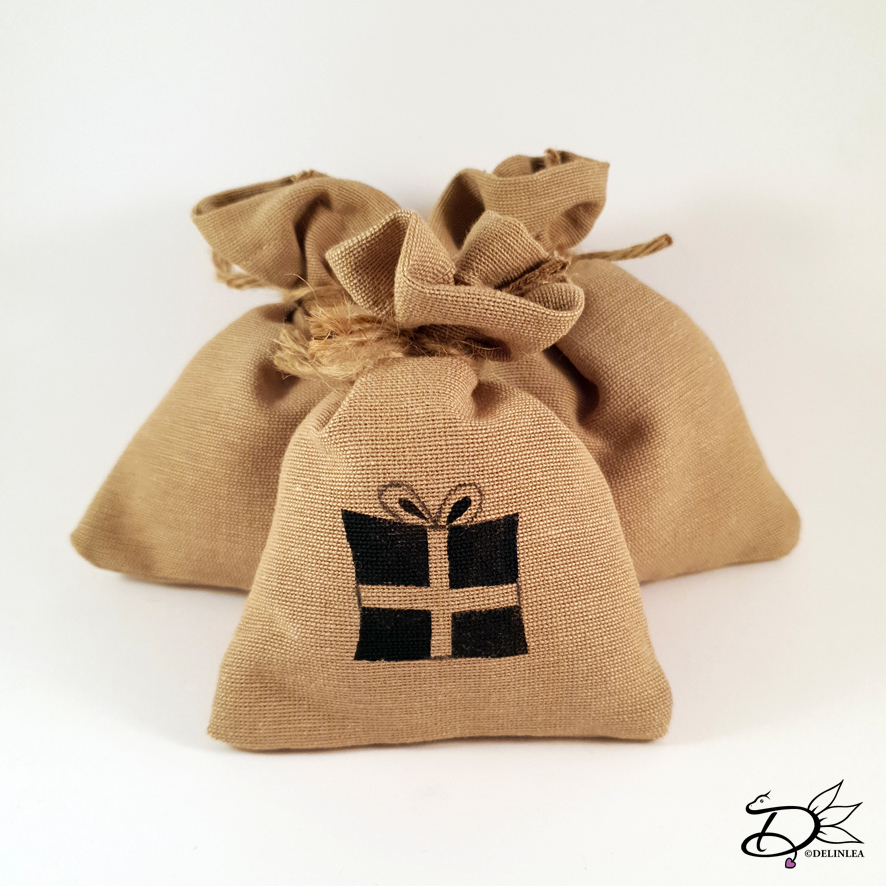 For this DIY you'll need:
♥ Brown fabric or real Jute.
♥  (Fabric) Scissors.
♥ Pencil or Trick Marker.
♥ Ruler.
♥ Sewing Pins.
♥ Iron. (Optional)
♥ Sewing Machine. (Optional, you can do it by hand as well).
For decorating:
♥ Paper or anything else you can make a stencil of, like wrapping foil that's self-adhesive.
♥ X-acto knive.
♥ Acrylic Paint. (Optional)
♥ Brush. (Optional)
Tutorial
From the brown fabric, cut out a rectangle of 21 by 16cm. Make as many as you want, but for one bag, you need one rectangle. If your fabric is really wrinkly, like mine was, you might wanna iron it.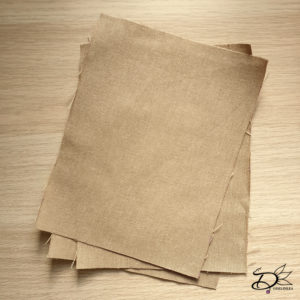 Along all sides of the rectangle, measure 1cm along the edge, this will be your seam allowance. On one of the widest sides, draw also a line that's 2,5 cm from the edge. (see picture)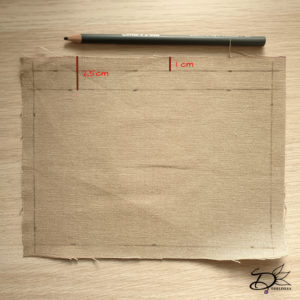 Fold both lines in on the side with the 2 lines. Pin those down and sew it close.
The side you've just sewn close, fold in half, the good side facing inward. Use sewing pins to keep it in place. Sew along the 2 sides that should be closed as well. As I used cotton fabric, the sides will raffle a bit, so I used a zigzag stitch as well to prevent this from happening.
If you have a lot of fabric left over around the edge, you might wanna trim it a bit. Just so it won't get bulky once you turn it inside out.
When you are done sewing, turn your bag inside out. The bag is done now, but you can choose to decorate it.
Decorating
I chose to decorate some of the bags I made, either for Sinterklaas or Christmas. I searched for silhouettes on google to make a stencil of. I traced those onto paper/wrapping foil and cut those out with a x-acto knive.  Make sure that you won't make the stencil too big, you wanna close the bag as well, without losing the image.
Position your stencil on your bag and apply the acrylic paint with a brush. I'd prefer to you a dapping motion, to prevent the paint to go under the stencil. When done, remove the stencil and let dry!
When you wanna wash your bags in the future, heat set the paint for about 4-5min with an Iron. But this is optional.
Finishing off.
With a piece of thread/yarn, about 15cm, close up the bag. I wrapped it twice and tied a knot.
I hope you like those small jute bags, just something cute to decorate your house with, use as gift bags or maybe even make your advent calendar with it. How cute will that look?! Show me what you will do with them! I'd love to see.
Love
Danielle