Hi lovelies!!
I have to do this, even I don't want to. But I have had enough troubles in the past with reposting and/or art-theft on my work. I don't wanna deal with that anymore (even I know it will happen again). At least I can try to make it a bit more clear to you guys and know that I love you.
I always feel.. confused when my work get's reposted.
It's not to make ppl feel bad by posting this. it's just to clear up things, cause I know most ppl wanna repost to help artists. But in the end, how many of you actually read a description underneath a post? not many right?! So in my eyes it doesn't help.
I always feel.. confused when my work get's reposted. I don't know what to feel exactly. I'm a bit happy, but also sad (specially when that post get's way~ more likes then my original post). Sometimes I also feel angry when there's not tagged correctly (nor asked to repost). There are so many feels involved when it happens, it kicks me off for days. (Usually I don't dare to say anything when it happens, only when it is art-theft, then I try to get it down as soon as possible.)
Overal, for me I don't allow reposting anymore. But I just wanna make clear that this is different for every artist. Make sure to ALWAYS ask the artist for permission,  before you repost anything. You can get in a lot of trouble by reposting, not crediting or even copying someones work without asking. But if you wanna copy someones work for practise, just keep it to yourself, don't share it online.
The image below are the rules I will post on instagram and twitter.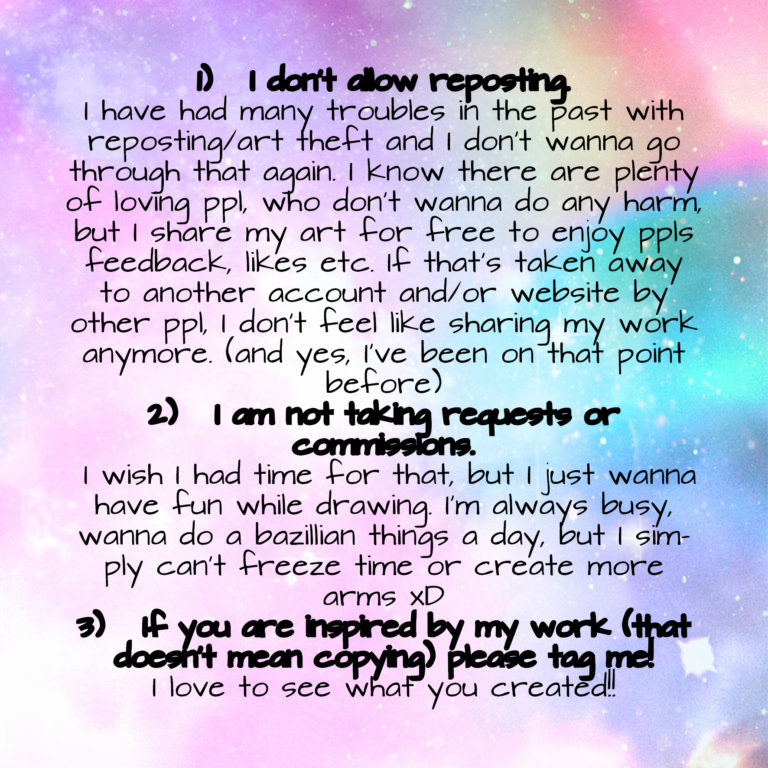 I hope you will have a wonderful day!
Love
Danielle