Hey lovelies!
So in november Faber Castell announced on their social media (link) that they were gonna hold a contest for their limited edition Albrecht Dürer cup. Albrecht Dürer is their watercolor pencil line. I own a set of 12, but I never truely used them, the way they are supposed to be used haha. So I got excited, cause you had to use those pencils for this contest.
♥ Under Water
The theme was 'Under Water' and you had to use those watercolor pencils for you entry. To show, in your work, what you can archieve with those pencils. This was gonna be a challenge for me. 1. I had never used the pencils with water, 2. I hate watercolors cause my paper never stays flat *frustration here*.
Well with theme I can go, I love the water life etc. It's always so pretty! I really needed to come up with a deasign. It gave me more trouble as I thought. Maybe also because of the situation at home. There was not a lot of room for staying in the brainstorm fase tho, because the deadline was december 18. (great timing Faber Castell >_< in the busiest time of the year you set a deadline for a contest yay).
In the end I stayed true to myself and came up with an idea that I love the most, dragons, waterdragons with corals, dolphins and sea slugs. Now all I had to do, is get the right paper, I had tried different papers with watercolors so far. Those weren't my fav at all.. so I did go to my fav store and asked there for advice… well… to be honest, I'm still not very happy with the paper. Enough rambling about that, I probably will never find the paper to my likings xD maybe if it is really thick..but they didn't had that at the store I go to.
♥ The Painting
My progress was very slow in the beginning. I couldn't concentrate much. AND in the midst of my Chirstmas Countdown… what was I doing to myself ORZ. But in the end I finished 2 drawing/paintings (You needed to download a template so you knew how big the drawings needed to be). I got my work in just minutes before the deadline. Later I found out, I forgot to add certain things, small, but still details that are missing. Maybe I should add them still.. hmm. Here is what I made for this contest: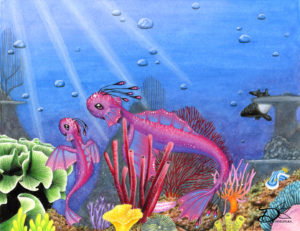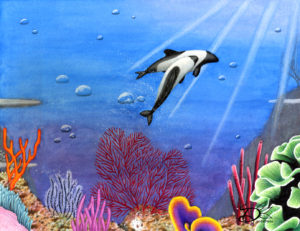 Now it's January and the winner is announced. I already knew I didn't got through to the next round. (if you didn't got an email by dec 22, you didn't make it) Too bad tho, cause I love how my entry looks, but I could understand it wasn't a winning piece. I should have sticked with the plan to keep a lot of white in the drawing. Oh well, nothing to do about it anymore! I still learned a lot by making this piece of art. I know how to use those watercolor pencils now. I might use them more in the future if I feel to. Let's find out.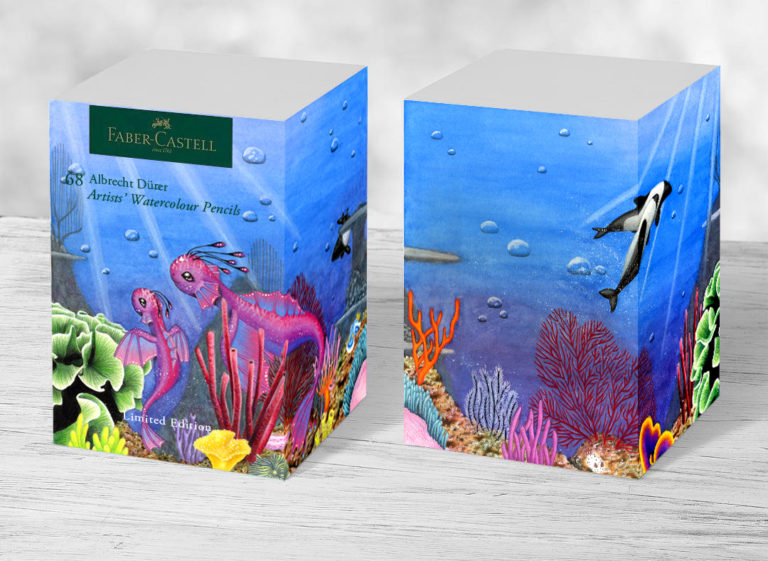 I edited my painting on the pictures Faber Castell used. xD Just to see how mine would look like. I love it, what do you think?!
Have a beautiful day everyone!
Love
Danielle