Hey Lovelies! it's day 3 of my Blogmas! And we go back to felt! We need more ornament for our tree right?! (Or anything else where you can hang them xD let's just hang them everwhere!!). For today I planned to make Togepi in a Stocking! So cute! Let's do this.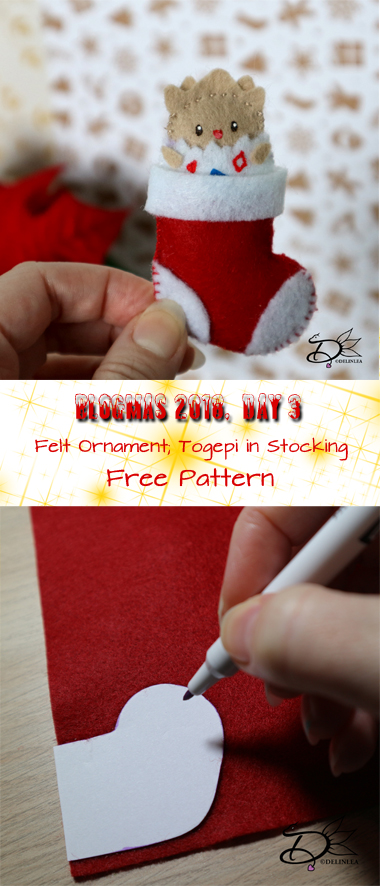 For this DIY you'll need:
♥  Felt in the colors Red, White and Beige.
♥  Sewing thread in matching colors to the felt.
♥  Sewing Needle.
♥  Trick Marker or anything else where you can copy the pattern with onto your felt.
♥  Pattern.
♥  Scissors.
♥  Stuffing.
♥  Fabric Glue. (optional)
♥  Acryllic Paint in Dark Brown, Red and Blue.
DIY
First off all, download the pattern HERE! And print it out (or draw it from your screen). The good thing is, you can make it as big as you want! Then cut out all the pieces. On every piece is stated how many times you need to cut it out of felt.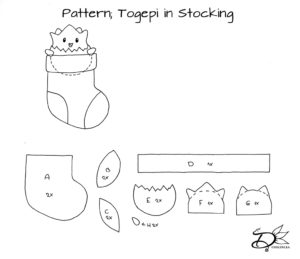 Part A you will cut out of Red felt. Part B, C, D and E you will cut out of white felt. Part F, G and H you'll cut out of beige felt. keep in mind how many times you need to cut out each piece. And keep track of which piece is which.
Glue or sew (with a running stitch) part B and C to part A. Then, Sew the completed parts A together with a blanket stitch (this stitch you will use for this whole piece).
When you have the base of the stocking done, you need part D, I glued this on as well, but I guess you can also sew it on. Start in the middle of the back of the stocking (see picture), wrap it around, and finish of tightly at where you started. You might have a bit too much in length of this piece, just cut the remaining part off.
Now stuff the stocking lightly.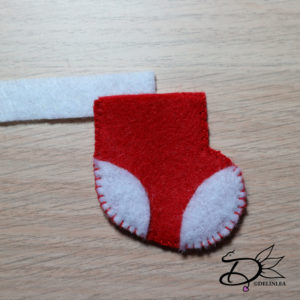 Now you need parts F and G. Sew these together, the bottom part you'll leave open. And where his 'spikes' (how to call it else?!) are you'll use a running stitch.
Put the face part inbetween the shell (part E) I used glue to attach these but you can sew it as well. Around the shell you sew it close, but don't forget to stuff it before entirely closing.
Glue on his arms (part H) And with paint you'll gonna make all the details on his shell and his face. I figured it's easier to use paint here since mine is pretty small, but if you made yours bigger you can also use felt for this part.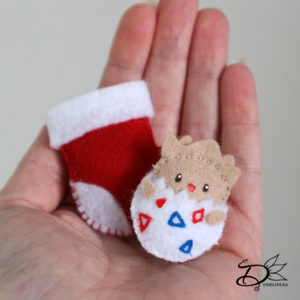 If you want you can attach a loop to be able to hang it somewhere, just take a piece of thread, put it through a needle, pull it half way through your ornament. Remove the needle and tie both end together.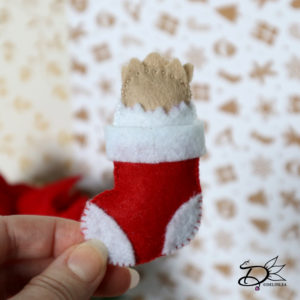 And another felt ornament is ready! cute right?! Share yours with #DelinleaBlogmas2018DIY on twitter or insta!
I will see you tomorrow again! Have a nice day!
Love
Danielle