Hey Lovelies! I am so sorry I didn't post last week. The thing was that my cat needed surgery, her uterus was inflamed and had to be removed. I was busy taking care of her. She's doing fine by now, she just needs to heal!
That for that, today I am posting a new Amigurumi pattern, I hope you will enjoy this one. I wanted to make our collection of Ufufy's a little bigger by adding Pluto! Have fun!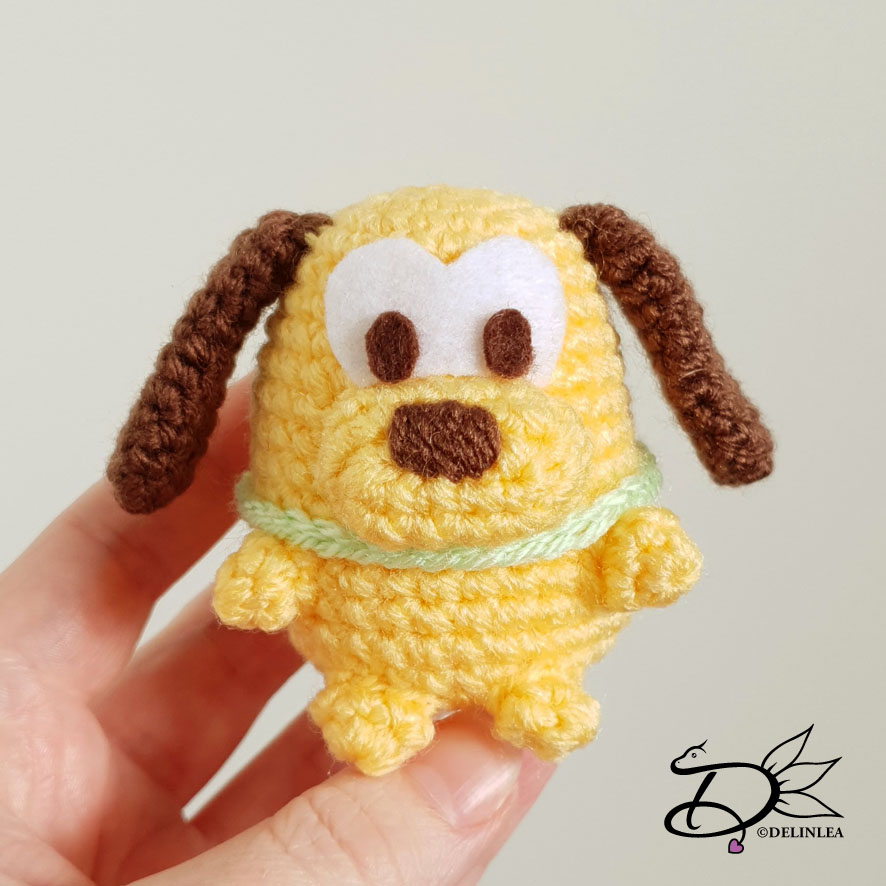 For this DIY you'll need:
♥ Yarn in the colors;  Yellow, Brown and Green.
♥ Crochet Hook (I used a 2,5mm hook).
♥ Stuffing.
♥ Scissors.
♥ Sewing Pins.
♥ Yarn Needle.
♥ Felt in brown and white.
♥ (Fabric) Glue.
Stitches used (US Terms):
Magic Ring.
CH = Chain.
SC = Single Crochet.
ST = Stitch.
Inc = Increase.
Dec = Decrease.
(…) = Repeat the space in brackets the given number of times.
[…] = Total number of stitches.
Pattern
Work in continues rounds, use a stitch marker to mark your first stitch of every row. This is for every part, unless stated otherwise.
Body
Use the color yellow.
1: 6SC in magic ring. [6]
2: 2SC in each ST around. [12]
3: (1SC, inc) 6 times. [18]
4: (2SC, inc) 6 times. [24]
5: 24SC. [24]
6: 24SC. [24]
7: (3SC, inc) 6 times. [30]
8: 30SC. [30]
|
17: 30SC. [30]
18: (3SC, dec) 6 times. [24]
19: (2SC, dec) 6 times. [18] Stuff the body here.
20: (1SC, dec) 6 times. [12]
21: Dec all around. [6]
Fasten off and weave in tail.
Legs (make 4)
Use the color yellow.
1: 6SC in Magic Ring. [6]
2: 6SC [6]
Fasten off and leave long tail for sewing. You don't have to stuff them, just flatten.
Snout
Use the color yellow.
Make 5 CH.
1: Insert in second chain from hook, 3SC, 3SC in the last st, 2SC, inc. [10]
2: inc, 2SC, (inc) 3 times, 2SC, (inc) 2 times. [16]
3: 16SC. [16]
Fasten off and leave a long tail for sewing. You will have to stuff the snout, but that's easier when it's about half way sewn to the body.
Ears (make 2)
Use the color brown.
1: 6SC in magic ring. [6]
2: (1SC, inc) 3 times. [9]
3: 9SC. [9]
|
9: 9SC. [9]
10: (1SC, dec) 3 times. [6]
11: 6SC. [6]
Fasten off and leave a long tail for sewing. Stuffing is not needed.
Collar
Use the color Green.
Chain about 40. Just measure if you need more or less.
Make round, fasten off and weave in tails.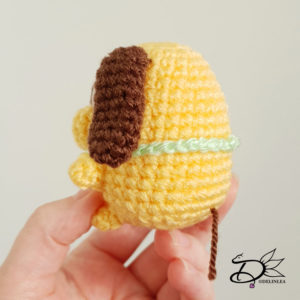 Assembling
I always use sewing pins to place all parts first, before sewing. This way you can easily move all parts around until you are happy with the outcome.
First create a nose on the snout. You can either do this with brown felt and glue it on, or embroider it on with brown yarn, just where you are comfortable with.
Put the collar around his body, around mid way, but a tiny bit lower. You can sew it on, but also you can leave it loose, up to you. From here you know how to position the legs, and sew those on.
Time to position the snout, it's just above the collar, happy with it's position? Sew it on as well. Last are the ears to sew on, on both sides of it's head. Ah and don't forget his tail! I just sewn on a piece of yarn. Nothing to fancy.
out of felt you will make the eyes. Best way is to cut them out of a piece of scrap paper, this way you won't waste any felt. If you are happy with how it looks on pluto. The you can cut the pieces out of felt and glue them to pluto's head.
I hope you enjoyed this little pattern. Have a wonderful day and I'll see you next week!
Love
Danielle