Hey Lovelies!
Time for a new DIY, are you ready?! You know my love for Tsum Tsum's by now, I believe, but I also love the Ufufy's they are a bit different but have the same concept. I love them since they used pastel colors for all the Disney characters. Which makes them appear even cuter.
I had those fake eggs around for a while, and needed to use them badly! So why not making something fun with them. Let's make Ufufy Easter Eggs!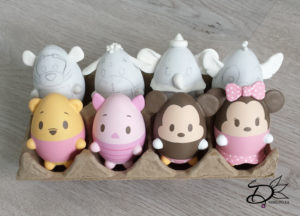 For this DIY you'll need:
♥ Fake Eggs or cleaned out Eggshells if you prefer.
♥ Light Air Dry Clay.
♥ Pencil.
♥ Acrylic Paint.
♥ Brush.
♥ Glue.
♥ Ribbon. (optional)
♥ Sculpting tools. (optional)
Sketching.
To start, sketch out the design of the Disney character you like with a pencil, I made a few different ones, like Pooh Bear, Mickey, Stitch, Dumbo, etc. I started with sketching the line to 'devide' the head and the body, that way it makes it easier to know where all the other lines need to go. I sometimes used a flexible ruler to measure them out, so all head's and body's where about the same.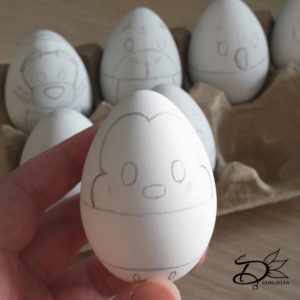 Clay.
When you are done with all the sketching, continue to claying! This gives you the opportunity to bring them a bit more alive! I used clay to make the limbs, ears and eventually tails or other features. I used air dry clay because the eggs I used are of plastic, don't ever bake plastic things, it's not healthy (and they won't survive anyway). So, don't use baking clay.
The easiest way to get even features is, for example, make 4 small even balls for the limbs. Shape them how you like and attach them to the body with some glue. You can use a needle tool or pin to make them seemless, but that's optional.
If you made all the features out of clay and attached them to the eggs, Let them dry comepletly. I let them dry over night, but it depends on what brand clay you used.
Painting.
Now it's time to give these some color! I used basic acryllic paints. And since I don't own pastel colors I mixed all the colors myself, it's not that hard. Use references of the Ufufy characters you created to make the right color and paint the areas with a brush. I had to do about 2/3 layers of paint, depending on the color. And ofcourse don't forget to paint their eyes and noses! I used brown paint for these. Try to avoid the use of black paint, this will make them look appear a bit harsh against the soft pastel tones.
You can choose at this point, after finishing painting, to give them a coat of varnish. I haven't done that yet, since I ran out of time xD. Just like I haven't finished all of the Ufufy's I planned to make. I will update my blog post when I did finish them all.
I hope you like this idea of Ufufy easter eggs. Let's make a whole army of them, right?! Don't forget to show them with #DelinleaDIY or tag me on Twitter or Instagram.
Love
Danielle