Hey Lovelies! How are you doing?! I am sad it's still raining and storming outside, no snow for me. I keep imagining how much snow all the rain would have been xD. Anyway I am still in winter mode, so I have made this adorable snow dragon out of clay. Just a little sculpture to have around and lift up the winter spirit. It's perfect to use clay around this time of year.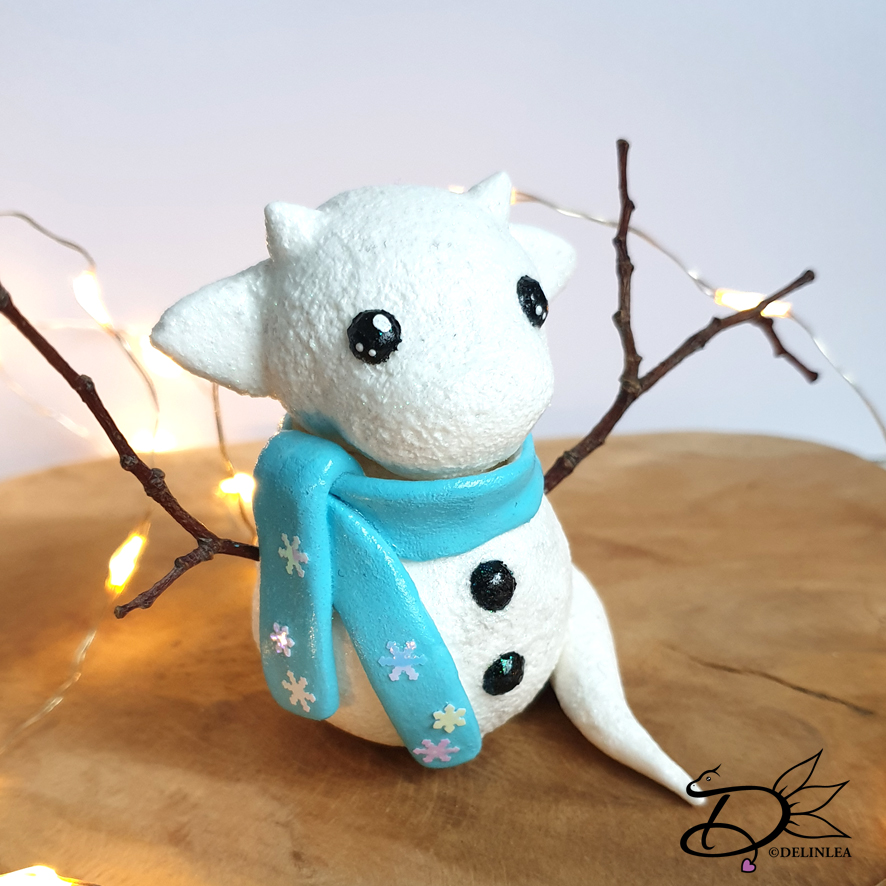 For this DIY you'll need:
♥ Aluminum Foil.
♥ Air Dry Clay.
♥ Skewer.
♥ Some Rough Brush or Tooth Brush for Clay Purposes.
♥ Water and/or Glue.
♥ Some Branches.
♥ Clay tools.
♥ Acrylic Paint.
♥ Varnish.
♥ Brush.
♥ Glitter/nailart deco. (optional)
Tutorial
Make 2 balls out of aluminum foil. One about 3,5cm and the other about 2cm.
Prick the skewer in the large ball, this makes it easier to hold. Cover it entirely with clay, about 1cm thick. It doesn't have to be perfectly smooth. If you ever made a snowman with real snow, you know that's almost impossible the get a perfectly smooth ball xD. When it's covered, texture the clay using the rough brush or toothbrush. If that's done, put it upside down with the skewer straight up and let it dry before you continue. Usually with air dry clay, this doesn't take too long, although it depends on the clay!
When the large ball is as good as dry, do the same for the small one, but don't let it dry. Cut the skewer smaller and pull out the one of the large one. Add a bit of glue around the hole of the large ball and slide in the skewer of the small one. if you left any marks where you hold it, make sure to texture it again.
Take a bit of clay, a ball around 2cm and make a oval shape of it. Put it on a flat surface and flatten the side/edges towards the flat surface. (Not sure how to explain this well, check the pics). This will be his beak. If the clay of the small ball is still wet then you can use water to put both parts together, if not use a bit of glue. Try to smooth out the edges , doesn't have to be perfect. Don't forget to texture it!
Horns
Make two balls out of clay, approx 0,5cm each. Make a pine cone shape of both balls. Glue those to the head where you like them. try to smooth out the edges and texture those as well.
From here I let it completely dry before I continued.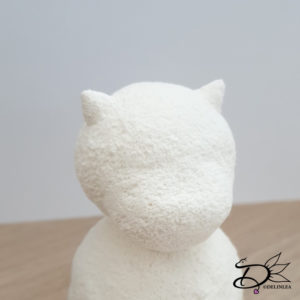 Tail
Make a long cone shape that you wanna use for the tail. At the widest part you wanna slice a part of with a knife to be able to apply it to the body easily. Texture the tail too.
Shawl
Make a long snake of clay, and flatten it a bit. Wrap about 10 to 15 cm around his neck (depends on your work), like shown in the picture. Make sure to use a bit of glue/water, cause air dry clay won't stick to dry air dry clay.
Now make a little gap where the clay starts to overlap. In here you will add another piece of the flatten snake you made. Cut off about 4 to 5cm of the snake and flatten one side of it a bit more, this will make it easier to slide in the gap. If you have done that, add it carefully in the gap and fold the remaining part down. Make sure to use glue here as well.
Ears
Make 2 balls of about 1cm each and shape those into a flat-ish triangle. Apply those to the head and make sure to texture those as well.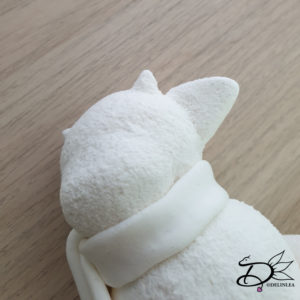 Arms
Poke a hole with something sharp on the place where you want the arms to go. Cut pieces of a branch to the size you like and put those in the holes you just made.
Eyes and Buttons
With little pieces of clay make the eyes and buttons on the snow dragon. Make sure to leave those smooth so they could look like little stones stuck into the snow.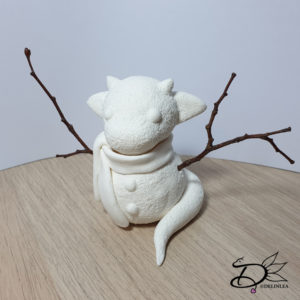 Painting
Last paint the parts you like to paint. I painted the scarf light blue and the eyes/buttons black. Further I left everything white. You can varnish the snow dragon if you like. I added some glitter to the varnish for that little extra. If you have ever seen snow, you know it sparkles. So so pretty! *-*
I hope you liked this little tutorial how to make a snow dragon out of clay! Show me if you made one as well, I'd love to see! Have a wonderful day!
Love
Danielle