Hey Lovelies! Remember I made Dopey of the 7 Dwarfs of Snow White earlier this year?! Well I made his friends finally, couldn't leave him alone! And it feels also perfect with fall kicking in. I don't know I always think of dwarfs/gnome with fall xD. So, here's today's pattern. The remaining 6 dwarfs, Grumpy, Sneezy, Bashful, Sleepy, Doc and Happy.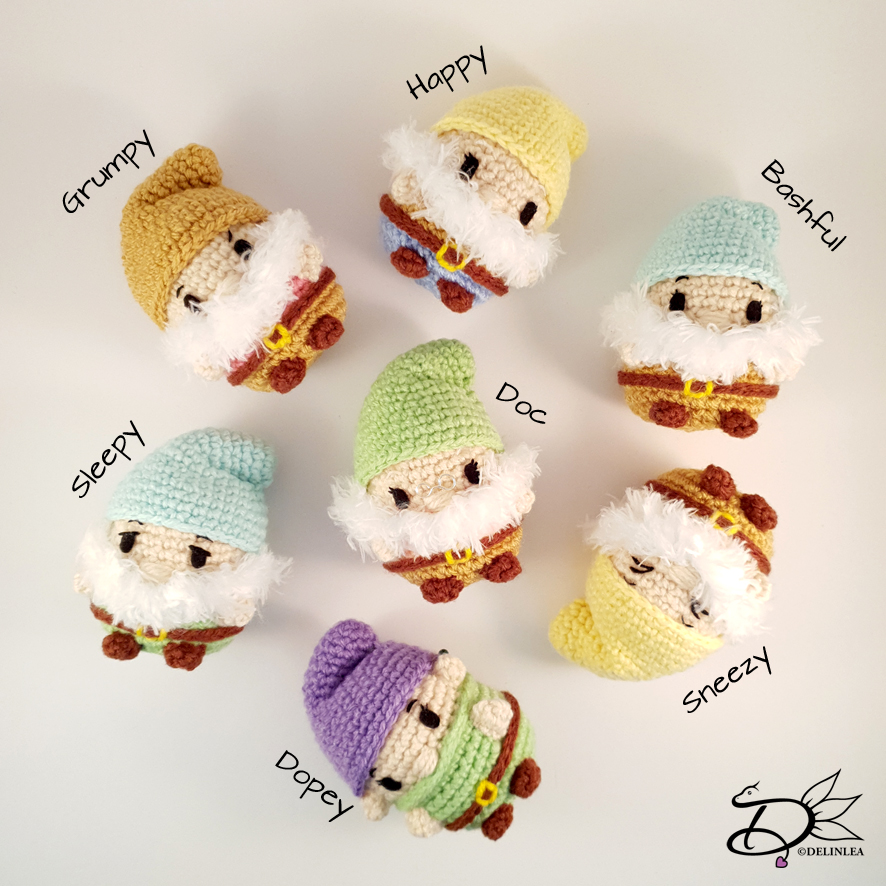 For this DIY you'll need:
♥ Yarn in the colors;  Beige, Brown, Yellow, Dark Pink, Light Orange, Light Yellow, Light Green, Blue, Light Blue, Light Brown. (I used Budgetyarn.com and Stylecraft Special DK)
♥ Fluffy Yarn in White.
♥ Crochet Hook (I used a 2,5mm hook for the 'normal'yarn and a 3mm hook for the fluffy yarn).
♥ Stuffing.
♥ Scissors.
♥ Sewing Pins.
♥ Yarn Needle.
♥ Felt in Black.
♥ (Fabric) Glue.
Stitches used (US Terms):
Magic Ring.
BL = Back Loops.
FL = Front Loops.
CH = Chain.
SLST = Slip Stitch.
SC = Single Crochet.
ST = Stitch.
Inc = Increase.
Dec = Decrease.
(…) = Repeat the space in brackets the given number of times.
[…] = Total number of stitches.
Color Scheme for each Dwarf
Name                   Shirt                      Pants                    Hat
Grumpy               Dark Pink            Light Brown       Light Brown
Bashful                Light Brown       Light Brown       Light Blue
Doc                      Light Orange      Light Brown       Light Green
Happy                 Light Brown       Blue                      Light Yellow
Sleepy                  Light Green        Light Green        Light Blue           
Sneezy                 Light Brown       Light Brown       Light Yellow
For all dwarfs you alse use the colors Beige, Brown and Yellow.
Pattern
The pattern will be the same as Dopey, which you can find here. With some alternations. Look carefully which color you need for which dwarf. The faces will give each dwarf the personality, so look carefully at that.
Body
If you have a different color for the pants make sure to change color at row 16!
At the body, row 12, you worked in BL make sure to keep the first stitch marked. When you finished the body, work in the front loops of row 12, to make a part of the rim of the shirt but also his beard.
Beard, work with your fulffy yarn:
Skip 5 st, 7SC, 2HDC, 2DC, 2HDC, 7SC and leave the remaining 5st as they are. Fasten off and weave in tail.
The stitches you skipped you will SlSt with the matching color of the shirt. Fasten off and weave in tail.
Arms/Feet/Belt/Hat
These are all the same as Dopey, no alternations, just check you are using the right color for the right dwarf.
For those dwarfs, you don't have to make the ears, they will dissapear under the hat anyway. You can tho, if you still want xD.
Assemble your dwarfs as described on Dopey's Pattern. And once again, make sure to check what each face looks like, this will give the difference for each. For Doc I made him some little glasses out of wire, so adorable!
I hope you enjoyed those instuctions. The 7 dwarfs are finally complete! Now I miss Snow White, I'll make her one day!
Love
Danielle