Hey Lovelies! This time I had 1 idea only, usualy I have plenty of ideas! But at first I had just a few things I wanted to include, a baby, clothes or something you can change like a hat or so and probably Fall themed. But Then I realized that when this aired it was almost Winter, so I went for that theme.
I love making Amigurumi's, I do that all the time! But usually my Amigurumi's are small, and this one, for the challenge had to be 20 to 30cm! ah! So big!!
Deze keer had ik maar 1 idee, normaal heb ik er tig! Maar in het begin had ik alleen onderdeeltjes die ik er graag in wou verwerken, zoals een baby'tje, kleertjes die je kan veranderen en waarschijnlijk een herfst thema. Maar toen bedacht ik me dat het al bijna winter is als deze aflevering online komt, dus ben ik voor een winter thema gegaan.
Ik vindt het erg leuk om Amigurumi's te haken, ik doe niet anders! Maar meestal zijn mijn amigurumi's klein, en deze, voor de opdracht, moest tussen de 20 en 30cm zijn! Zo groot!!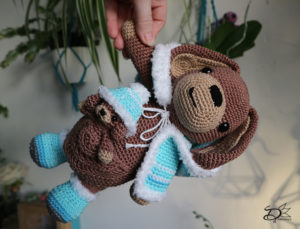 The main challenge for me was when I had to make the body. The feet/legs went very easily, but then I wanted to crochet further, directly on the legs. I have tried that soooooo many times. >_< One week passed and I gave up on that idea. Made the body seperate, and that went so smoothly! That was way more easy to get the shape I wanted! From that moment on I just crochet and crochet, so easy~~.
De grootste uitdaging bij deze opdracht zat hem in het lijfje. De beentjes had ik zo gemaakt, maar ik wou daarop verder haken. Ik heb dat zooooo vaak geprobeerd. >_< Een week was voorbij en ik had opgegeven met dat idee. Ik heb het lijfje apart gemaakt, en dat ging zo makkelijk! Dat was veel makkelijker om de vorm te krijgen die ik wou! Vanaf dat moment kon ik blijven haken, zo gemakkelijk!
Here's what I made:
Hier is wat ik gemaakt heb: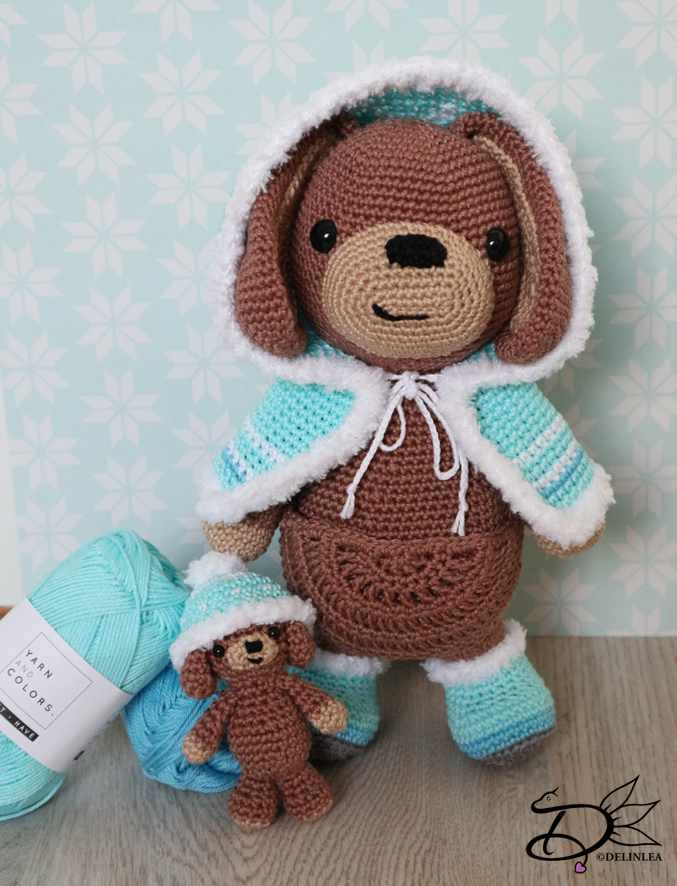 I loved to make all the small little details in the cape, the baby etc. I could make what I love. With every challenge I tried to keep it close to myself. And I guess that's something that keeps it interresting and fun!
Ik vond het zo leuk om alle kleine details te maken, in de cape, de baby, etc. Ik kon maken wat ik leuk vind. Met elke opdracht het ik het geprobeerd dicht bij mezelf te houden. En ik denk dat dat het een stuk interessanter en leuker blijft houden.
The 'clothes' are removable, that's something I like, that you can interract more with it then just a plush. This way you can also change it up, so make a summery outfit or something like that. I am not sure if I will make that in the future for this one. Or that I will create a new one. Let's find out what the future brings.
De kleertjes kun je uit en aan doen, dat is iets wat ik leuk vind, dat je knuffeltje interactiever wordt dan gewoon een knuffel. Op deze manier kun je dus ook de kleertjes aanpassen, of nieuwe maken, zoals een zomer outfit of iets in die richting! Ik weet niet zeker of ik dat voor dit knuffeltje in de toekomst nog ga doen. Of dat ik een nieuwe ontwerp. Laten we zien wat de toekomst brengt.
Love
Danielle