Hey Lovelies! I really wanted to have a fun aspect in this Winter Wonderland project. So I thought of creatures that I could add and that are not too complicated to make, in case you don't have experience with clay. In the end I went with those adorable penguins, since you can change the position of the wings, you can also let them climb something. How cute is that?! Let me show you how to make those penguins!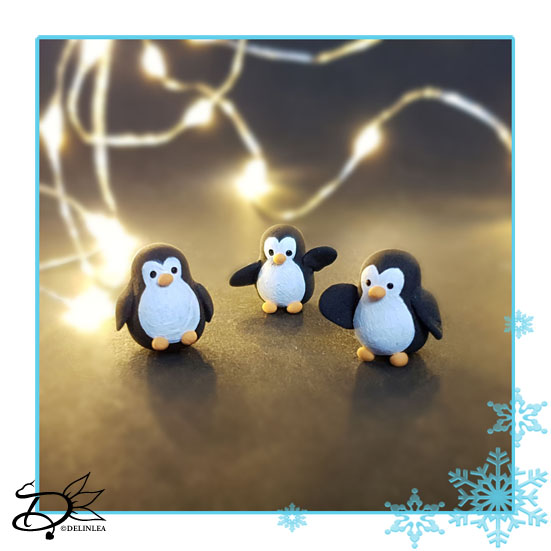 For this DIY you'll need:
♥ Air Dry Clay in the colors Black and Orange/Yellow.
♥ White Acrylic Paint.
♥ Brush.
♥ Clay Tools. (Optional, I just used my hands)
DIY Penguin
Start with a bit of black clay and roll it into a ball with a diameter of about 1cm. Now, make an indent about 1/3 versus 2/3, so there's gonna be a bit definition for the body and head. On the bottom half, pinch out a tail with your fingers.
Paint
Paint a white face/belly on the front of the penguin. It's like a heart for the face and a circle for the belly.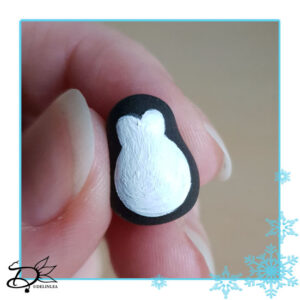 Clay Features
From a tiny bit of Orange/Yellow clay you make 3 tiny balls for the beak and feet, glue those on. Then make the flippers from a bit of flattened black clay and attach those to the body as well. You can play around a bit with the flippers on how to position them. And don't forget the eyes! Use either paint of a tiny bit of clay.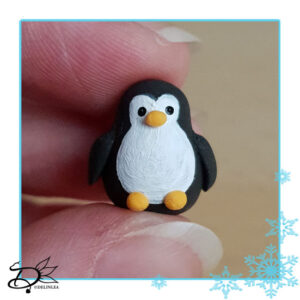 And that's all, make as many penguins as you like and spread them around on the snowball, maybe even on the tree? Just have fun with them for that cute, adorable accent.
If you decided to join this lovely project, or just some parts of it, show me on Twitter or Instagram what you are working on! I'd love to see!
If you like to buy the PDF pattern for this whole project, go to my ko-fi shop. This will have an extra story attached and no ads.
Have a wonderful day!
Love
Danielle
PS. if you love those patterns, maybe you'd like to support me on Ko-Fi?! So I can keep making content like this!
// ©2021 Delinlea / Danielle Kaal // Items made with this pattern/DIY may be sold in a limited number. Credit to 'Delinlea' is appreciated. Not allowed for mass production or commercial purposes. You may not reproduce, translate, share, freely distribute or sell this pattern/DIY as your own in digital or printed from.